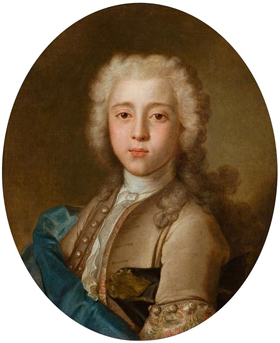 The Portrait of a Boy by Jean-Baptiste Chardin in the collection of the National Museum in Wrocław is a masterpiece, asuperb, psychologically insightful image of childhood.
A boy of about ten is looking at the viewer from the oval portrait painted around 1735, his gaze somewhat pensive and melancholic. The sitter's elegant attire communicates his elevated social status, he is likely a scion of an affluent aristocratic French family. The portrait's bust format and the sitter's three-quarter frontal stance conveying a sense of immediacy and directness are typical of the era's elegant, fashionable portraiture. This new type of portrait was favored by aristocratic patrons.
The boy is dressed in a blue velvet justaucorps (a knee-length coat with a full skirt) with fitted sleeves and deep turn-back cuffs lined with the fabric matching that of the vest worn under the coat. His shirt is white with a frilled neck and white kerchief wrapped around the neck.
The boy wears a powdered wig styled in multiple strands and locks. Powdered hairdos, whether of one's natural hair or a wig, were characteristic of 18th-century fashion for both men and women. With nonchalant grace, the boy also displays another typical 18th-century accessory: a tricorne held under his arm. The sitter's elegant and dignified appearance is complemented by an asymmetrically arranged blue mantle recalling classically-inspired drapery.
Chardin's painting is a brilliant study of Rococo elegance and youthful charm with a subtly melancholic inflection, balancing freshness and finery, naturalness and artificiality. It showcases the artist's supreme skill, especially his refined chromatic orchestrations, and confirms Chardin's reputation of one of the greatest artists of French Rococo, a supreme portraitist of the era and its people.
Michał Pieczka, Department of Art Education at the National Museum in Wrocław
Jean Baptiste Simeon Chardin, Portrait of a Boy, ca. 1735