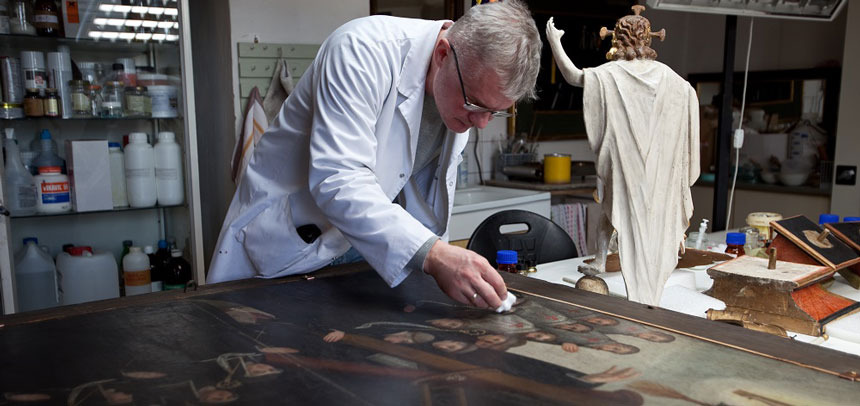 The Painting and Sculpture Conservation Studio is the oldest of the six such units within the Conservation Department at the National Museum in Wrocław. It was established in 1956 and initially employed two persons. The staff carry out a whole range of conservation work: complete and partial restoration, maintain the actual condition, as well as provide preventive care for the Museum collections of paintings and sculptures, both antique and contemporary works of art.
The studio additionally carries out conservation work on ceramics and artifacts originating from the Far and Near East.
Team:
Małgorzata Slawiczek-Altman – Senior Conservator, Head Conservator
malgorzata.slawiczek-altman@mnwr.pl
Karolina Furykiewicz – Senior Conservator
karolina.furykiewicz@mnwr.pl
Joanna Zyzik-Lubasińska – Conservator
joanna.zyzik-lubasinska@mnwr.pl
Artur Jarkiewicz – Conservator
artur.jarkiewicz@mnwr.pl
dr Agata Warszewska-Kołodziej – Conservator
agata.warszewska@mnwr.pl
Małgorzata Damczyk – Conservator
malgorzata.damczyk@mnwr.pl
Mariola Gloc-Rochowicz – Senior Renovator
mariola.rochowicz@mnwr.pl
Wiktoria Zejler-Lamik – Assistant Conservator
wiktoria.zejler-lamik@mnwr.pl
Other tasks of the studio involve documenting the undertaken conservation procedures in the form of the Archives of the Conservation Documents, and collaborating with the Department of Documents and Collection Inventories in the cases of the arranged loans of the Museum's own artifacts and items on loan from other sources.
Marzena Mironowicz – Senior Conservator
marzena.mironowicz@mnwr.pl
Contact:
Pracownia Konserwacji Malarstwa i Rzeźby/Painting and Sculpture Conservation Studio
Muzeum Narodowe we Wrocławiu
pl. Powstańców Warszawy 5
50-153 Wrocław
tel. 71 372 51 50 w. 232, 235