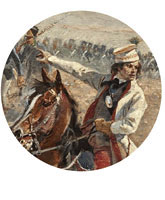 A ticket purchased to view the Panorama of the Battle of Racławice also entitles its holder to a free admission to the permanent exhibitions in the National Museum in Wrocław, the Ethnographic Museum, and the Four Domes Pavilion, during the 3 months following the date of viewing the Panorama printed on the ticket.


Tickets can be bought on the day or before (always for a specified viewing session). All the tickets which have not been reserved for groups are available to individual visitors. The number of visitors admitted to each session is 85.
Tickets are sold 7 days prior to viewing and up to the date of the viewing session (or until sold-out). It is possible to acquire tickets at a much earlier date (the ticket can be returned according to the regulations).
Viewing sessions take place every half hour. The purchased ticket entitles to a visit on a given date and at the given time. The start of viewing is marked on a ticket, together with the date, the price and the type of the purchased ticket:
N – regular, U – discount, R – family, S – special, B – free of charge
Discount tickets:
▷ youngsters at school
▷ students
▷ pensioners
▷ recipients of disability benefit
▷ persons with disability and their carer
▷ teachers (with the appropriate document)
Family ticket: for two parents (or guardians) accompanying a child/children 7–15 years of age
Free admission:
▷ children up to the age of 7
▷ museum employees
▷ members of the International Council of Museums (ICOM) and the International Council on Monuments and Sites (ICOMOS)
■ Organized group viewing (up to 11 people)
It is necessary to make an earlier reservation for the date and time.
Reservation can be made in the following ways:
▷ by phone (+48) 501 59 88 32, 71 344 23 44, 71 343 36 39, 71 344 16 61/62 (ext. 113; 114; 116)
▷ in person in the Acquisitions Department at the Panorama of the Battle of Racławice
▷ by post to: Panorama Racławicka, ul. Purkyniego 11, 51-155 Wrocław, Poland
▷ by email to: biuro@panoramaraclawicka.pl
Stating clearly:
▷ the date of viewing the Panorama
▷ the preferred time of viewing (between the hours of…)
▷ the number of persons (maximum including the person responsible for the group)
▷ exact name and address (including the postal code) of the person or institution for whom the reservation is made
▷ telephone number, email address
▷ NIP (the Personal Tax Number)
▷ the name and surname of the person making the reservation
■ The Panorama of the Battle of Racławice can be also viewed after closing time
Such a possibility is offered to groups of at least 25 persons with a two-week notice, paid for up to 7 days prior to the viewing session (price: 100 zł per person). Reservations can be made at the following number +48 71 344 23 44.