Dear Visitors, from July 31, 2020 to III quarter of 2021, Panorama of the Battle of Racławice is closed to visitors due to work under the EU project "Modernization of Panorama of the Battle of Racławice Buildings Complex – Stage III"
* With a ticket to Panorama of the Battle of Racławice during the 3 months following the date printed on the ticket you can visit the permanent exhibitions of the National Museum in Wrocław, the Ethnographic Museum and the Four Domes Pavilion free of charge, as well as the exhibition "Willmann. Opus Magnum"
---
■ Panorama of the Battle of Racławice – buying tickets on-line (sale suspended)
Regular ticket: — zł
Discount ticket: — zł
Family ticket: — zł/person (two parents or persons accompanying a child/children aged 7-15)
Special ticket: — zł (per person in charge of a school group of 10 pupils)
The purchased ticket entitles to a visit on a given date and at the given time. Viewing sessions take place every half hour. The start of viewing is marked on a ticket, together with the date, the price and the type of the purchased ticket:
N – regular, U – discount, R – family, S – special, B – free of charge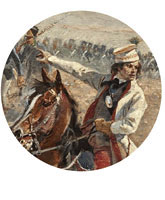 ---
a ticket purchased to view the Panorama of the Battle of Racławice also entitles its holder to a free admission to the permanent exhibitions in the National Museum in Wrocław, the Ethnographic Museum, and the Four Domes Pavilion, as well as an exhibition "Willmann. Opus Magnum" during the 3 months following the date of viewing the Panorama printed on the ticket
---
Organized group viewing (up to 12 people)
It is necessary to make an earlier reservation for the date and time (especially in May and June).
Reservation can be made in the following ways:
▷ by phone (+48) 71 344 23 44, 71 343 36 39, 71 344 16 61/62 (ext. 113; 114; 116)
▷ in person in the Acquisitions Department at the Panorama of the Battle of Racławice
▷ by post to: Panorama Racławicka, ul. Purkyniego 11, 51-155 Wrocław, Poland
▷ by fax to: +48 71 343 36 39, +48 71 344 15 11
▷ by email to biuro@panoramaraclawicka.pl
Stating clearly:
– the date of viewing the Panorama
– the preferred time of viewing (between the hours of…)
– the number of persons (maximum including the person responsible for the group)
– exact name and address 9including the postal code) of the person or institution for whom the reservation is made
– telephone and fax numbers, email address
– NIP (the Personal Tax Number)
– the name and surname of the person making the reservation
---
Free admission:
▷ children up to the age of 7
▷ museum employees
▷ members of the International Council of Museums (ICOM) and the International Council on Monuments and Sites (ICOMOS)
Discount tickets:
▷ youngsters at school
▷ students
▷ pensioners
▷ recipients of disability benefit
▷ persons with disability and their carer
▷ teachers (with the appropriate document)
Tickets can be bought on the day or before (always for a specified viewing session). All the tickets which have not been reserved for groups are available to individual visitors. The number of visitors admitted to each session is 12 (85).
Tickets are sold 7 days prior to viewing and up to the date of the viewing session (or until sold-out). It is possible to acquire tickets at a much earlier date but without the option to return them.
---
Organized group viewing: it is necessary to make an earlier reservation for the date and time (especially in May and June).
Reservation can be made in the following ways:
▷ by phone (+48) 71 344 23 44, 71 343 36 39, 71 344 16 61/62 (ext. 113; 114; 116)
▷ in person in the Acquisitions Department at the Panorama of the Battle of Racławice
▷ by post to: Panorama Racławicka, ul. Purkyniego 11, 51-155 Wrocław, Poland
▷ by fax to: +48 71 343 36 39, +48 71 344 15 11
▷ by email to biuro@panoramaraclawicka.pl
Stating clearly:
– the date of viewing the Panorama
– the preferred time of viewing (between the hours of…)
– the number of persons (maximum including the person responsible for the group)
– exact name and address 9including the postal code) of the person or institution for whom the reservation is made
– telephone and fax numbers, email address
– NIP (the Personal Tax Number)
– the name and surname of the person making the reservation
---
The Panorama of the Battle of Racławice can be also viewed after closing time. Such a possibility is offered to groups of at least 25 persons with a two-week notice, paid for up to 7 days prior to the viewing session (price: 100 zł per person). Reservations can be made at the following number +48 71 344 23 44.
---
Until August 2020 The shows take place every half hour only in Polish; headphones are not available.
Texts in English and German are provided for foreign visitors.
* During the viewing session the spoken commentary can be listened to in the following languages:
▷ Polish
▷ English
▷ German
▷ French
▷ Russian
▷ Czech
▷ Spanish
▷ Italian
▷ Dutch
▷ Danish
▷ Greek
▷ Croat
▷ Japanese
▷ Korean
▷ Chinese
▷ Esperanto
▷ audio-description


Headphones are available on the viewing platform (free of charge).
---
Video-filming and taking photographs
It is possible to film and take photographs (without using a tripod and flash lights) on the viewing platform, free of charge.
---
Car parks
24-hour car park next to the Panorama of the Battle of Racławice
Prices + VAT in złoty (PLN)
passenger cars — 1st hour – 4.50; 2st hour – 4.50; next hour – 4; 24hrs – 44
bus — 1st hour – 6, 2nd hour – 6, next hour – 5.50; 24hrs – 54
minibus — 1st hour – 25, 2nd hour – free, next hour – 7; 24hrs – 80
coach — 1st hour – 29, 2nd hour – free, next hour – 9; 24 hrs – 100
Plac Nowy Targ (underground car park) | Galeria Dominikańska (car park in the Shopping Centre) | Hotel Radisson Blu
Street parking along ul. J. E. Purkyniego (Sat and Sun free of charge)
---
In 2021 the Panorama of the Battle of Racławice will not be open on the following:
from 31.07.2020 to the third quarter of 2021 (modernization)
3.06.2021 (Corpus Christi)
31.10.2021 (Eve of All Saints' Day)
1.11.2021 (All Saints' Day)
24.12.2021 (Christmas Eve)
25.12.2021 (Christmas Day)
26.12.2021 (Boxing Day)
31.12.2021 (New Year's Eve)