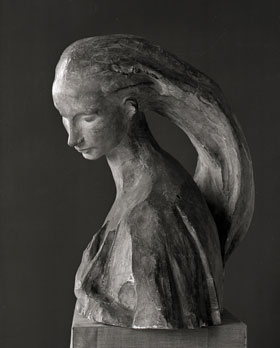 In 1906, Xawery Dunikowski caused a scandal with his Pregnant Women series of life-size female figures of expecting women, self-contained and focused on their bodies.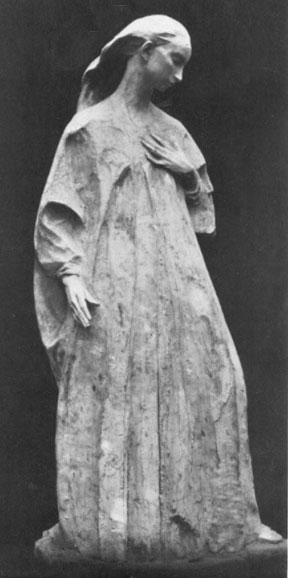 Not only was the subject itself daring but also the artist's decision to display the figures without any pedestals so that they could merge into the crowd and literally come with face to face with the viewer was controversial.
It is worth remembering that in the late 19th c. Auguste Rodin had come up with the same idea to display his Burghers of Calais group and it had likewise met with vehement opposition.
Several years later, in 1911, Dunikowski submitted his work for a competition for a figure of The Immaculata (Immaculate Conception of the Virgin Mary) announced by Society for the Encouragement of the Fine Arts in Kraków.
Deprived of any iconic attributes of sainthood, his work, which was awarded the Second Prize, did not resemble traditional religious sculptures. Instead, it recalled his earlier Pregnant Women series.
The life-size standing figure rendered the Virgin Mary clothed in a long gown, concentrated on and attuned to her pregnant body, with her head tilted and hand touching her breast. Her calm face exudes a sense of contemplative expectation. It was doubtless one of Dunikowski's most beautiful sculptures.
The original figure has not been preserved but Dunikowski had also cast two plaster busts, one of which is now in the collection of the National Museum in Wrocław.
The archival photograph shows the figure in Dunikowski's studio.
It was also featured in art journel "Sztuki Piękne" (1931, no. 8-9, p. 327).
Barbara Andruszkiewicz, Department of Sculpture 16th–19th cent.