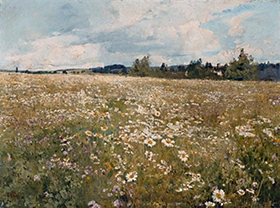 I love this painting! I fancy the meadow dotted with chamomile and clover flowers. I delight in the calm of the warm day. As a museum educator, I have a l large mental repository of paintings I would love to enter and stay in their realm. But in the present situation it is the landscape featured in The Blooming Meadow by Gertrud Staats that I long for the most.
Gertrud Staats was born in 1859 in Wrocław. She died in 1938. The distinguished Silesian landscape painter Adolf Dressler exerted the formative influence on the development of her talent. From 1878, she studied at his atelier and then attended his Master Class in Landscape Painting. During this period, landscape painting became her primary focus. She made frequent trips with Dressler to Przesieka in the Giant Mountains.
In the company of her fellow students, she hiked in the mountains, forests, and valleys, selected picturesque views and, guided by her mentor, she tried to capture their beauty. Talented and ambitious, she then continued her study in Berlin. She made many trips to paint landscapes in Germany and Austria, but most often she worked in Silesia. She regularly traveled to SzklarskaPoręba at the foot of the Giant Mountains and also to the Valley of Kłodzko and the Owl Mountains.
The principal motif in the featured painting are field flowers and the blooming meadow occupies most of the picture plane. The horizon is high, close to the picture's upper edge, which suggests that we observe the meadow from a low vantage point, like sitting on the grass. This is how I imagine the moment of the picture's creation: the paintress sitting on the ground, surrounded by chamomile and clover flowers, delights in their smell and colors while slowly applying subsequent layers of paint.
Gertrud Staats rendered the landscape using lively, diverse brushstrokes: please note, how she has painted the delicate tiny white petals of chamomile flowers in contrast to their beefy yellow centers. The grasses and clovers have been scratched in paint using the tip of the brush handle. The detailed brushwork in the meadow section markedly contrasts with the broader brushstrokes used to render a narrow strip of bushes on the horizon and the cloudy sky. The artist's masterful capturing of a fleeting moment is conveyed through the picture's exquisitely nuanced texture and the brilliantly captured sunlight filtered through the clouds.
Nobody knows when the current lockdown will end and we will be able to take respite in blooming meadows again. In the meantime, we can contemplate nature through the eyes of the fine artist.
Barbara Przerwa, Department of Art Education at the National Museum in Wrocław
Gertrud Staats, Blooming Meadow, ok. 1895