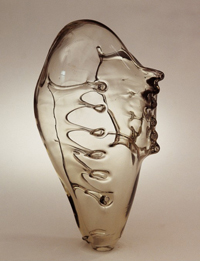 I remember my personal encounter with Henryk Albin Tomaszewski many years ago. I accompanied my father who visited the artist in Warsaw. It was in the early 1980s, I was a teenager and Tomaszewski approached eighty. He lived in a small crowded apartment in one of these humongous housing estates. I recall that the central object in his apartment was a black shiny piano on which the artist, delighted by our visit, played for us.
Afterwards, we went to a small storeroom in the apartment block's basement, where the artist showed to my father some of his newest pieces. They had just arrived from the Wołomin Glassworks. They were unique and striking: huge, glass bubbles with something mysterious happening inside them. They looked as if somebody had suddenly frozen some dynamic state of the glass matter.
Today, I am Keeper of Contemporary Ceramics and Glass at the National Museum in Wrocław. The Museum has an exquisite collection of pieces by Henryk Albin Tomaszewski, a great artist and never tiring experimenter of boundless imagination. He was born in 1906 in Siedlce and died in 1993 in Warsaw. In the 1930s, he studied at the Academy of Fine Arts in Warsaw. His interest in glass started relatively late, after World War II. In 1945, he volunteered for a practical course of glassmaking at the Julia Glassworks in Piechowice in Lower Silesia.
Although he occasionally and with very interesting results ventured into glass design, it is art glass and one-off, unique glass creations that became his specialty and trademark. From the 1960s, as an independent artist, he realized his works in the Ożarów, Wołomin, and Targówek Glassworks.
His original and innovative signature style emphasized the dynamic aspect of form. He brilliantly explored the potential of heat-resistant glass by introducing the element of tensile forces testing the material's integrity to its limits.
He used instruments of his own design, like a massive wooden fork, to brutally 'maul' and distort the glass bubble during the forming process. He obtained interesting effects by infusing the glass bubble as it was being blown with fine cullet, for example in the Winter series. He was often inspired by poetry (Norwid) and especially by music (Chopin, Tchaikovsky, Lutosławski).
↟ Here is one of his beautiful pieces in the Museum's collection.
Barbara Banaś, Deputy Directorof the National Museum in Wrocław