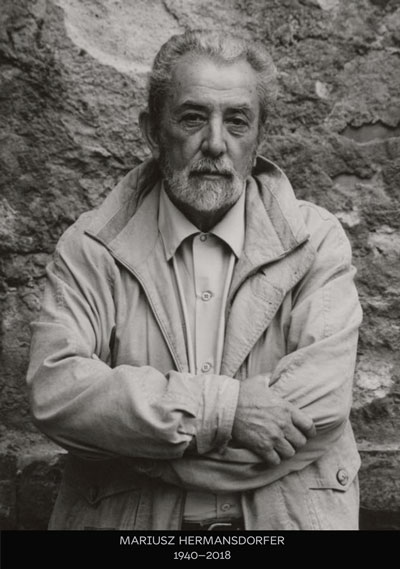 It is the privilege of extraordinary individuals that, in accordance with Horace's phrase "non omnis moriar", they leave behind their exceptional mark – their work and the memory about them. Such an absolutely unique person – whose life's achievement and whose place in the collective memory will remain with us forever – was the late Mariusz Hermansdorfer.
Professor Mariusz Hermansdorfer, who created one of the most valuable collections of Polish art of the second half of the 20th century and of the early 21st century, was a prominent art historian and erudite art critic, a friend of artists, their mentor and advocate/promotor, as well as a great authority for many generations of musealists.
His entire professional life was linked to the Museum, initially known as the Muzeum Śląskie – later the National Museum in Wrocław. During almost 50 remarkable years Mariusz Hermansdorfer left his truly indelible mark on the Museum, making it an institution well-known both in Poland and internationally, shaping its collections and popularising Wrocław's heritage of antique and contemporary arts.
Under his expert guidance the National Museum in Wrocław reached the heights of success as testified by the many Sybilla awards for the Museum's accomplishments. The published catalogues of the Museum exhibitions and especially of the collections, prepared under his supervision, remain the unsurpassed model for this type of publications.
It is difficult for all of us to come to terms with his absence.
We salute his memory!
Piotr Oszczanowski
Director of the National Museum in Wrocław
---
We are deeply saddened to announce the death of Mariusz Hermansdorfer, Director of the National Museum in Wrocław in 1983–2013, who passed away on Saturday, 18 August 2018.